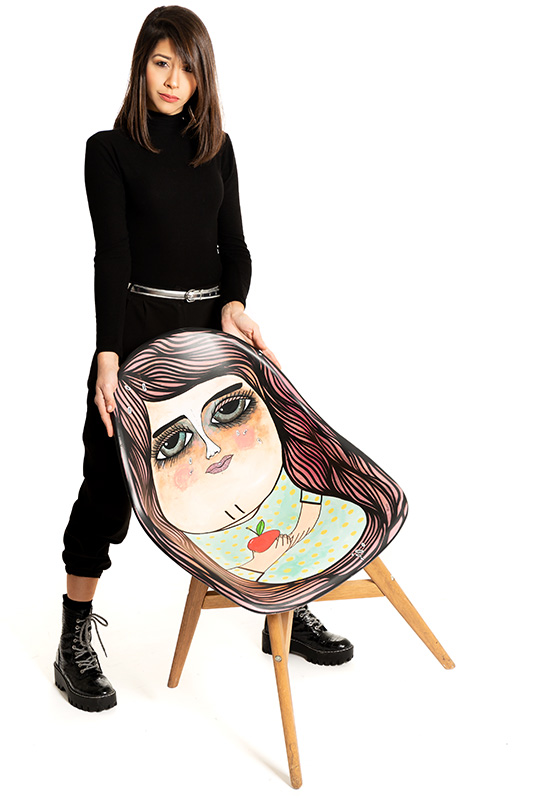 Looking outside
to see inside
My art work is inspired by the source of cellular energy: the mitochondria appears in all my art work, it is the cellular organelle that moves my inspiration and fulfills the function of providing energy to the cell, in my painting it symbolizes the inner motor of things that we do passionately. The purpose of the message of my work is to inspire others from an inner perspective that leads us to create what we came to offer the world with love. Whatever we do, we must do it with inspiration and I symbolize that inner energy through MITOCHONDRIA that has become the symbol that identifies my work, it is almost a verb loaded with positive actions and intentions of the heart.
Energy as principle of inner searching
My inspiration comes from the energy we invest to see, create, explore and attribute meanings to things. This has led me to create characters on which I represent the symbolism of the mitochondrion, which I usually paint on the faces as a faithful description of cellular energy seen from the inside and as a way to show emotions. It is about making visible the inner cellular world than we cannot see naturally.
Vanessa Iacono 🙂
Vanessa Iacono González (MAY 31, 1984)
She is a multidisciplinary artist and curious about the exploration of techniques, she
is also a psychologist. Her work is known for the uniqueness of her characters
inspired by mitochondrial energy or a look inside the cell. She has collaborated with
important companies and brands for interior design projects, furniture and image
design for advertising campaigns.
EDUCATION AND FIRST STEPS
Iacono was born in Caracas, Venezuela, in 1984. Although she also has Italian
nationality from her father. Since she was little, she experienced great interest in the
visual arts, since she was raised she received an important influence from
architecture and art, she is a direct descendant of the painter and sculptor Carlos
González Bogen. She studied Psychology at the Central University of Venezuela and
graduated with honors in 2007. She obtained honorable mention recognition for her
graduate work related to forms of urban artistic expression in tribalizations and new
postmodern societies.
Her first steps in painting began in 2005 in an experimental way, she is a self-taught
artist, always attracted by the curiosity of pictorial techniques and poetry from an
early age, at 9 years old.
FORMAL CAREER
In 2009 she began her formal career in the advertising area as a strategic planner of
the brands of a prominent French communications agency (Publicis Group) there she
had the opportunity to develop conceptual and creative projects for well-known
brands.
Iacono has worked as an artist, muralist and designer for brands such as Absolut,
Diageo, Nestle, Grupo Bancario IF, Acciona, Roche, Accenture, Deloitte. She has been
noted for her ability to create environments with meaningful creative experiences,
engaging interactions, and unique beauty for office spaces and health centers for
children with chronic illnesses.
In 2010 she was part of the Templarios gallery in Caracas through which she participated in various biennials and solo shows and group exhibitions. The artistic actions linked to brands made Vanessa grow rapidly in Venezuela, being the focus of attention of many media, interviews and public recognition.
 In 2014 she did an exhibition «Mitochondrial Faces» in Madrid for the first time outside of Venezuela.
In 2015, she moved to Miami where she obtained a visa for being considered SPECIAL ARTISTIC TALENT in the United States, to work with L´Excellence Design INC Gallery. in Miami, Florida. Together with this gallery specialized in architecture projects, she developed a series of artistic furniture and artistic installation projects for interiors. This allowed her to work closely with architects and interior designers, cultivating great experience and unforgettable friendships.
 In 2017 she returned to Madrid, there she began to develop artistic projects related to Virtual Reality, together with a pioneering company in innovation technologies Xperiencia Virtual SRL. for whom she currently collaborates as part of the team of developers in the creative area.
In 2018 she continued developing artistic projects and live painting performances with innovation technologies for companies such as Acciona, IVECO, NH Hotels, among others, and in the same year, she presented an innovative museum draft called «The Future is happening today» for training of new talents and the exploration of technological means applied to contemporary art. This project was presented to the board of directors of the Banking entity BBVA Compass in Houston. 
In 2019 she developed a reimagining of a work in the permanent collection of the Thyssen Bornemisza Museum inspired by Edgar Degas's Blue Dancer. This participation was documented by the most important newspaper in Spain, El Pais, together with the collaboration of Vodafone, one of the most important telecommunications companies in Europe.
In 2019, Iacono participates in the GOT TALENT SPAIN program to present a Virtual Reality performance that deeply moved the audience. Vanessa, combines in her projects a magical mixture of moving artistic expressions through painting, poetry and live performance. Additionally, she has participated in performances in Virtual Reality for television in Spain TRECE TV and RTVE -TELEVISION ESPAÑOLA. 
In 2020, she continued to paint during the pandemic and developed the illustrations for the editorial project of an outstanding writer who wrote a story for children and teenagers inspired by respect for human differences. At the end of 2020, she launched her HANDS campaign inspired by decorative pieces of articulated hands made of wood and ceramic that symbolize the human hand that creates incredible things. This initiative emerged as a positive message to inspire people to create a better planet despite the global adversities caused by the pandemic. TEACHING AND ACADEMY.
Currently, Vanessa is one of the pioneering artists in the use of virtual reality and innovative technologies applied to art, which is why she has dedicated herself to conducting training courses for young artists. Currently, Iacono is developing an exhibition called «Intersticio» inspired by the vision towards the abstraction of the cellular interior, this series of works still in process combines the production of works that emerge from the canvas as a traditional form and is transformed and adapted to different surfaces and techniques, to create decorative pieces and immersive experiences in Virtual Reality. 
Why the paperclip? 
My curiosities
Since 2014 I get paperclips in all the cities I visit, I have more than two hundred of these pieces, after a long time reflecting on this curious thing that happens to me I realized that the paper clip symbolizes an abstraction of the shape of the mitochondria and the meaning What I give it is that the paperclip is the way in which the cities where I am going to paint speak to me, it is the way of telling me that I belong to the places and not places of the world, it is a symbolism of permanent and impermanent roots at the same time .
I am passionate about exploring world cities, I am wanderlust, lover of travel, cultures, performativities and ways of life in any corner of the planet where inspiration is breathed, accompany me on this journey of transformation, learning and magic through creativity which is the only thing that has no limits.