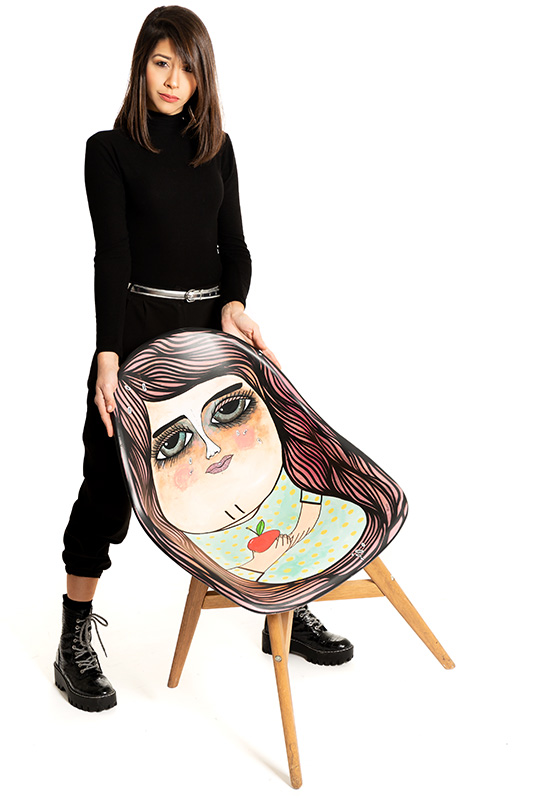 Looking outside
to see inside
My art work is inspired by the source of cellular energy: the mitochondria appears in all my art work, it is the cellular organelle that moves my inspiration and fulfills the function of providing energy to the cell, in my painting it symbolizes the inner motor of things that we do passionately. The purpose of the message of my work is to inspire others from an inner perspective that leads us to create what we came to offer the world with love. Whatever we do, we must do it with inspiration and I symbolize that inner energy through MITOCHONDRIA that has become the symbol that identifies my work, it is almost a verb loaded with positive actions and intentions of the heart.
Mi obra está inspirada en la fuente de energía celular: la mitocondria aparece en toda mi obra, es el organelo celular que mueve mi inspiración y cumple la función de proveer de energía a la célula, en mi pintura simboliza el motor interior de las cosas que hacemos apasionadamente. El mensaje de mi obra tiene como propósito inspirar a otros desde una mirada interior que nos lleve a crear aquello que vinimos a ofrecer al mundo con amor. Sea lo que sea que hagamos debemos hacerlo con inspiración y esa energía interior la simbolizo a través de la MITOCONDRIA que se ha convertido en el símbolo que identifica mi trabajo, es casi un verbo cargado de acciones positivas e intenciones del corazón 
Energy as principle of inner searching
My inspiration comes from the energy we invest to see, create, explore and attribute meanings to things. This has led me to create characters on which I represent the symbolism of the mitochondrion, which I usually paint on the faces as a faithful description of cellular energy seen from the inside and as a way to show emotions. It is about making visible the inner cellular world than we cannot see naturally.
Mi inspiración proviene de la energía que invertimos para ver, crear, explorar y atribuir significados a las cosas. Esto me ha llevado a crear personajes en los que represento el simbolismo de la mitocondria, que suelo pintar en los rostros como una descripción fiel de la energía celular vista desde adentro y como una forma de mostrar emociones. Se trata de hacer visible el mundo celular interno de lo que no podemos ver de forma natural.
Vanessa Iacono 🙂
Why the paperclip? 
My curiosities
Since 2014 I get paperclips in all the cities I visit, I have more than two hundred of these pieces, after a long time reflecting on this curious thing that happens to me I realized that the paper clip symbolizes an abstraction of the shape of the mitochondria and the meaning What I give it is that the paperclip is the way in which the cities where I am going to paint speak to me, it is the way of telling me that I belong to the places and not places of the world, it is a symbolism of permanent and impermanent roots at the same time .
I am passionate about exploring world cities, I am wanderlust, lover of travel, cultures, performativities and ways of life in any corner of the planet where inspiration is breathed, accompany me on this journey of transformation, learning and magic through creativity which is the only thing that has no limits.
¿Por qué el clip? 
Mis curiosidades
Desde 2014 consigo paperclips en todas las ciudades que visito, tengo más de doscientas de estas piezas, después de mucho tiempo reflexionando sobre esta  curiosa cosa que me pasa me di cuenta que el paper clip simboliza una abstracción  de la forma de la mitocondria y el significado que le doy es que los paperclip son la forma en la que me hablan las ciudades a donde voy a pintar, es la forma de decirme que pertenezco a los lugares y no lugares del mundo, es una simbología de arraigo permanente e impermanente al mismo tiempo.
Soy apasionada de explorar ciudades del mundo, soy wanderlust, amante de los viajes, la culturas, las performatividades y formas de vida en cualquier rincón del planeta donde se respire inspiración, acompañame en este viaje de transformaciones, aprendizajes y magia a través de la creatividad que es la única cosa que no tiene límites.